Ambacht inspireert mij. Ik zocht op wat zavel betekende en ontdekte dat er ook wel mee gemetseld werd. Ik maakte een oor dat openheid en luisteren naar de natuur symboliseert. Het is ook een mooie plastische vorm.
Toen ik op het einde door het zand schepte ontdekte ik de verschillende lagen. Deze geven het werk een extra dimensie. Dit is als beeldhouwer een ontdekking.
Soms is het als kunstenaar moeilijk om in te grijpen in de natuur maar aangezien het om een oude groeve gaat, voelde het goed om er in te gaan graven.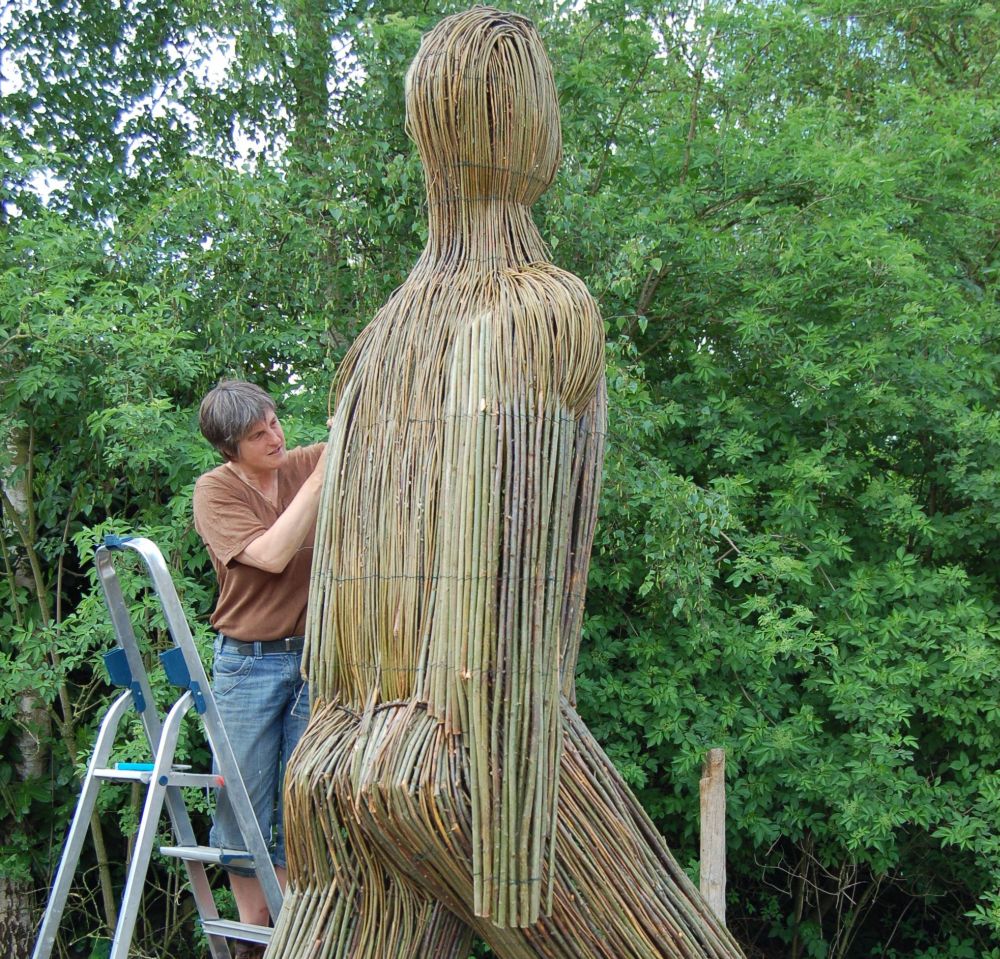 Visual Artist
Teaching sculpture at Phoenix Institute, Veghel NL
Assessor at ABV, the Art Department of Fontys University of Appl. Sciences Tilburg, NL
member of the jury for the Jacques de Leeuw art prize, Fontys University of Appl. Sciences Tilburg, NL
Member of the Dutch Sculptors Association ( www.NKvB.nl)
"......her work appeals to the imagination. Hester Pilz creates a world that can be recognised like an old folk tale, but feels alien at the same time because of the scale and stylization – the work of a modern artist." Margriet Kemper, curator and publicist.
In my free artwork I seek contact with basic things. My Land Art and sculpture often deal with the concept of "feeling connected with the earth on which you live." I see my art as a vehicle for the soul. I am always looking for ways to connect my inside world with the outside world, working with different materials. Clay, wood, iron, natural materials, sometimes even the earth itself. I find poetry in nature and its processes, and in the rituals that people develop to live with nature - those are the sources of my inspiration. That is why I am interested in modern and traditional life in agricultural societies: life in accordance with the rhythm of the plant, or in some cases, against it.
My sculpture work in commission is often architectural in character. I like to design simple places to sit and talk together, places to feel comfortable.
Being a dedicated teacher, I also enjoy doing Community Art. In one of my projects, the "GreenDoPavilion", a playful do-it-yourself sculpture with natural materials, I have worked with many city- children in Europe: ( London, Amsterdam and Antwerp)..
Education:
1978-1981 architecture, Delft technical university, NL
1991 graduated BA sculpture , AKV Sint Joost 's-Hertogenbosch, NL
2002 graduated BA teaching the arts, Fontys University of Applied sciences Tilburg (cum laude), NL
Prizes:
2011 1st prize, "White Angel", Art Colony Milesheva Serbia
2009 prize of the public, Sculpture for Veghels Buiten art competition, the Netherlands
2005 "Terre de Femmes" (nature prize of the Foundation Yves Rocher, France)
Artwork in commission (selection)
2019 "KernhoutGroeihout"wood sculpture for Stichting Kunstenlandschap, NL
2019 design for project de Kleine Beerze, comm Kunstbalie, NL
2018 "Griendhoutmens 5",willow sculpture, comm. the Waterlinie museum, NL
2015 "Sitting Corner" – wood sculpture for Oss Municipality, NL
2015 Community Art project "De Toren", St. Oedenrode, NL
2014 "Human Nest" – willow sculpture for Landgoed de Keukenhof, Lisse, NL
2014 "From where we stand" , Olympos Art Colony, Turkey
2013 "Oerbank" sculpture, Corten steel, for 150 years Waterboard De Dommel, NL
2013 "Oergrond" glass objects for the Belgian and Dutch Waterboards De Dommel
2012 proposal for "a place for walkers and cyclists", Hilvarenbeek, comm by BKKC, NL
2011 "Nada=Hope" sitting objects for the city of Priepoljie, Serbia
2011 "Willow Man", willow sculpture for Burgh Haamstede, NL
2009 "Here I start at the river Aa" , wood sculpture, Veghel municipality, NL
2009 Sitting bench with poem, Veghel, NL
2007 "Raking Field" , Land art and willow sculpture for EuroLandArt, NL
Exhibitions (selection):
2018 the Waterlinie museum, NL (solo)
2018 100 years Dutch Sculptors society, The Hague, NL
2016 Comenius museum , Naarden, NL
2015 Environmental Art Biennale, East Haddam, Connecticut, USA
2014 Keukenhof, Lisse, NL
2014 "Voorbeelden III" Dutch Sculpture Association, Amsterdam, NL
2014 Anadolu University, Eskishehir, Turkey
2014 Big Gallery, New Belgrade, Serbia
2014 Landgoed Zonnestraal, Hilversum, NL
Art Residencies, Symposia (on invitation):
planned: 2020,Penland School of Crafts. North Carolina, USA
2019 Abgunste, Latvia
2016 hEARTH residency, NL
I-Park Foumdation, East Haddam Connecticut, USA
2014 Anadolu International Artist Colony, Turkey
2014 Building with Natural Materials, Delft Technical University, NL
2013 ENALA European landart initiative – Hochschule Sachsen Anhalt, Germany
2013 Spreewald Atelier, Lübbenau, Germany
2011 Zlakusa int. artists Colony, Zlakusa, Serbia
2010 Milesheva int. artists colony, Prijepolje Serbia