Normaal werk ik met wortels, maar hier in de zavelput zijn de wortels van de bomen al een kunstwerk op zich.
Ik ontdekte verrassend genoeg verschillende soorten zand en aarde die ik filterde tot poeder.
Deze plek voelt voor mij heilig en feeëriek aan. Ik wou werken met cellen. Dit is één grote cel met kleinere cellen in verschillende kleuren. De laaghangende tak met de frisgroene bladeren dient als een natuurlijke koepel voor de cel.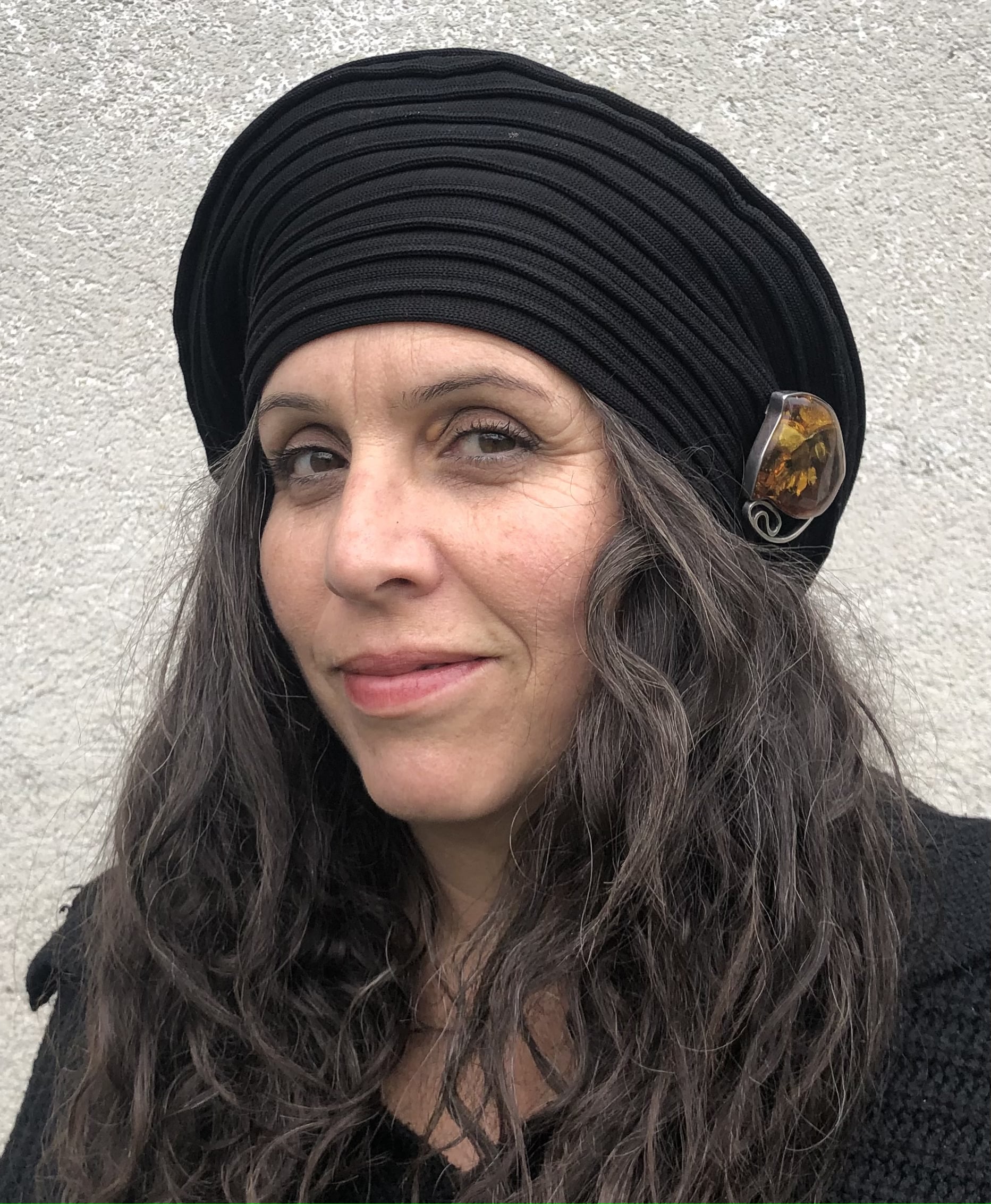 Born in France, I began my artistic career as an actress and self-taught sculptor. At Concordia University in Montreal, I studied fine arts in sculpture and fibres and had experiences in Africa, Guinea, Nunavik and India. I received various art scholarships.
Since 2003, I have been involved in the development of humanist community art projects and am committed to an Indian humanist art movement.
In 2014, I discovered a passion for land art that I practice since regularly, lecturing and providing further land art intervention for children and adults.
EXHIBITIONS / INTERVENTIONS
- 2023 Landart Pfad Gernschnialp, Episodes, Engelberg, Switzerland
- 2023 International Land Art Symposium, Villa Cernigliaro, Sigilli Terrestri, Sordovolo, Italia
- 2022 Digital creations: Books, NFT, Capsules, online on digital platform and social networks
- 2021 Land Art in urban environment, Mercurius Fortunus alias Mercurius Pacifer, Arty show
- 2021, Biel, Switzerland - 2021 Land Art Intervener/speaker, University of Teacher Education of Biel, Switzerland
- 2021 Land Art, Echo, Land Art Pfad 2021-Engelberg, Switzerland
- 2021 Land Art, Portal, Frête Arts, Switzerland
- 2021 Public Sculpture, Watch the Sky, Connected Space, Place d'Armes, Bern, Switzerland - 2020 Land Art intervention over a year (5X) for children and teachers (3 classes 1-2-3H), Primary schools of Martigny, Martigny, Switzerland -
- 2020 SOHAM 2020, International Symposium on Yoga Ayurveda and other streams of Ayush, Delegate speaker: "Land Art: Source of Childhood Wellness", publication, West Bengal, Calcutta, India
- 2019 Intervention (3X) Land Art for children and teachers (4 classes 1-2-3-4H), Primary schools of Martigny, Martigny Switzerland
- 2019 Land Art performance, Cosmic Roots, in collaboration with Vikram Mohan (India), Land Art Biel Bienne, Biel, Switzerland
- 2019 Land Art, Ovum Anguinum, Frêtes Art, Switzerland
- 2019 Bangla Biennale, Komdhara, West Bengal, India:
*Solo exhibition Loving Stick, Swiss Pavilion
*Land Art: Cellular Cosmic Whispering
*Performance Art with Vikram M.Mohan: Cosmic Matrix
*Performance Art with Sanjoy Chakraborty: Maa the Word of the World
*Intervention/Performance: Tell me the Color of Your Heart *Performance/Tribute: Feed the Earth *Coordinator and supervision of artists for the children's workshops
*Land Art Workshop for 300 children Land Art and Village Art
*Installation and coordination of the exhibition: Eternal Dolls, Children's Pavilion
*Workshop for 200 children, Giant sculpture with plastic waste in collaboration with Dom.K: Mother Doll and No Pastic
*Theater workshop for 100 children
- 2019 Participation in the elaboration of the school diary (Land Art cover page and land art text for children), diary edited for 1500 children, Primary Schools of Martigny, Switzerland
- 2018 Conference/speaker: "Discovering Traits of Humanity - Child Art and Traditional Game", Jaidavapur University, Calcutta, Department of Education, West Bengal, India
- 2018 Land Children Art, Land Art Interventions with children (200 children) from Komdhara village, (special Land Art Project on Children from Komdhara), Pre-Event Bangla Biennale, Narrative Movements, Komdhara, West Bengal, India
- 2018 Land Art, Nesting, Natural Reserve of Verney, Martigny, Valais, Work commissioned by the direction of the municipal schools of Martigny, Switzerland
- 2018 Artemis Gallery, Sculptures and Mixed Media, Open Cosmogony, solo exhibition, Corcelles/Neuchâtel, Switzerland 2018 Land Art, Source, Tête de Calvin, Saut du Doubs, Frêtes-Arts, Switzerland
- 2018 Member of the Jury (6 international jury members), International Exhibition of Illustrated Children's Books, Sharjah- Dubai, United Arab Emirates
- 2017 Sri Aurobindo Gallery, Organic Wave, International Art Exhibition, group exhibition, Narrative Movements, Pondicherry, India
- 2017 Land Art and Beach Cleaning, Circle and Waves, Vaithikuppam Sea Beach, curator and land artist, Narrative Movements, Pondicherry, India
- 2017 Land Art et performance Land Art, The Other World II, Land Art Biel-Bienne Mythos, Biel, Switzerland - 2017 Land Art, The Other World I, Land-Art am Ufer der Thur, NaThurArt, Andelfingen, Zürich, Switzerland - 2017 International Land Art Symposium, Mirror/Light/Shadows, Land-Art: Aum for Home, Komdhara, West Bengal, India 2017 CIP Gallery, Ancrage, group exhibition, Tramelan, Switzerland
- 2016 Zellulose Art campus, Kettenreaktion, Junk-Art performance and group exhibition, Attisholz, Solothurn, Switzerland 2016 Old Crown Gallery, Circles and Co, Coordinator for the group exhibition of the association Land Art Biel-Bienne, Biel, Switzerland
- 2016 Land Art, Beauty, Goodness and Truth, Mythos-Land Art Biel-Bienne, Biel, Switzerland
- 2016 Fallani Venezia Workshop, Serigraphs from personal works Land-Art, Venice, Italy
- 2016 Land-Art, Sleeping Rock, La Carrière d'Or, Frêtes-Arts, Switzerland
- 2016 Land-Art, Stone and Moss, Botanic Garden of Neuchâtel, Neuchâtel, Switzerland
- 2015 Grenchen international graphic art triennial, Collective Exhibition, Grenchen, Switzerland
- 2015 Land-Art, Matter, Land Art Biel-Bienne, Biel, Switzerland
- 2014 Land Art, Alpha, Land Art Biel-Bienne, Biel, Switzerland
- 2014 9a Stauffacherplatz Gallery, group exhibition, Bern, Switzerland
- 2014 Visarte Joli Mois de Mai, Group exhibition, Biel, Switzerland
- 2013 9a Stauffacherplatz Gallery, Only water can sleep, solo exhibition, Bern, Switzerland
- 2013 Fondation of Grand-Cachot-de-Vent, group exhibition, 10 Years Retrospective, La Chaux-du-Milieu, NE, Switzerland 2013 Annual Contemporary Exhibition, Les Halles, group exhibition: Art in Mai, Pont-de-Roide, France
- 2012 Old Crown Gallery, collective exhibition-intervention, integration department of the city of Biel, African-Calendor.ch 2012 Fondation of Grand-Cachot-de-Vent, Earth Anthem, solo exhibition, La Chaux-Du-Milieu, NE, Switzerland
- 2010 Nights of 1000 questions, ARTpartout workshop, X-Project, collective exhibition: Values, choices, contradictions, Biel, Switzerland 2009 Pasquart Church, group exhibition: Racines / Wurzeln with the association of African artists of Switzerland, Biel, Switzerland 2006 National Museum of Fine Arts of Quebec, Selected works: Earth Resonances, purchase for 30 years of the national collection Loto-Quebec, QC, Canada 2004 Bas-Saint-Laurent Museum (contemporary art and ethnographie), "Nature and Protection", 4 monumental and permanent public sculptures, in collaboration with Michel Bernier, Rivière-Du-Loup, Qc, Canada
- 2004 Art en Majuscule Gallery, Between Bodies and Souls, solo exhibition, Montreal, QC, Canada - 2003 Montreal International Design Fair, group show, Montreal, Canada
- 2003 Quebec Contemporary Arts Center in Montreal (CACQM), Subversive Ocean, solo exhibition, Montreal, QC, Canada 1999 Birth of my son
- 1997 Land-Art, Malarial Fever, Roum Island, Guinea1997 Research work related to the theme of female genital mutilation (interviews, testimonies, rituals and dance) for the elaboration of Création et Excision, Conakry, Guinea
- 1997 University of Quebec in Montreal (UQAM), Conference/speaker and presentation of the humanist activist artwork: Création et Excision (art work based on research work in Guinea related to the female genital mutilation in Guinea), Montreal, QC, Canada
- 1996 National library of Quebec, Selected work: Book-Object: Safira Book Ear, Travelling exhibition throughout the Americas (purchase for the permanent collection of the National Library of Quebec-BNQ), Montreal, QC, Canada
- 1996 Abraham Lupelski Gallery, group exhibition, New-York, USA - 1995 VAV Gallery of Concordia University, Fine Arts department, Collaborative exhibition, Kachour and Ishizuka, in collaboration with Gordie Ishizuka, Montreal, QC, Canada
- 1995 Castle Saint-Ambroise, Eleven, Group exhibition, Montreal, QC, Canada
- 1992 L'oreille Recousue Gallery, Someone there?, solo exhibition, Montreal, QC, Canada
- 1991-1993 Foufounes Electriques Gallery, solo and group exhibition, Junk-Art, Montreal, QC, Canada
GRANTS / AWARDS
- 2015: Grant for the project Rumor, Bern, Switzerland, anti-racism service (SRL), Swiss Confederation, Switzerland
- 2012: Visual Arts Project Grant (Grant for artistic creation) Biel, Switzerland, City of Biel, Culture Department - 2012: Visual Arts Project Grant (Grant for artistic creation) Bern, Switzerland, Direction of Public Education, Canton of Berne 2005: Grant for the Community Art Project "future faces" Quebec, QC, Canada, National Assembly of Quebec
- 2004 Artist chosen for the 1% works, Integration of Arts in Architecture, Montreal, QC, Canada,
- 2004: Grant for artistic interventions in the community, Quebec, QC, Canada, National Assembly of Quebec, Canada
- 1999: Grant for Creative Art Project, Subversive Ocean, Quebec, QC, Canada, Council of Arts and Letter of Quebec, Canada
ARTISTIC TRAINING
- 2003-2004: Montreal, QC, Canada Levier Engrenage Noir: Training in Community Art and Humanist Activism, Training in the development of community and humanist art projects in response to proposals from individuals and groups dealing with a wide variety of issues. 2002-2005: Montreal, QC, Canada Quebec Center for contemporary arts in Montreal (CACQM) Technical assistant, metal workshop for the fabrication of monumental sculptures.
- 1992-1996: Montreal, QC, Canada Concordia University, Fine Arts Department, bachelor's in fine arts, major in Sculpture, minor in Fiber
- 1989-1992: Montreal, QC, Canada Self-taught sculptor (Junk Art)
- 1991: Montreal, QC, Canada Quebec Glass Trade Center: intensive training in Neon Art
1980 to 1989: Normandy, France Actress, theater groups: Grain d'Orge and Clin d'Oeil (tour in France and Quebec)
- 2017 to 2019: Meditation techniques for children and adults with Biplab Barman, Yoga Singur center, Singur Hoogly, West Bengal India
OTHER
Since 2003: Canada, Switzerland and India
- Artist Intervenor in Community Art, activist and humanist
- Artist Intervenor in Land-Art for children,
- Artist Intervenor in Land Art for adults,
- Development of Land Art Meditation as a Source of Wellness and Creativity for children and adults.
- Development of various artistic projects (private and within institutions / files on request)
Since 2018 President of the Narrative Movements Association CH, Switzerland
Since 2017 Member of the Narrative Movements Association, India
2013-2014 Member of the Land-Art Association Biel-Bienne, Switzerland Since
2014 Co-president of the Samvada Association (public/popular education), Switzerland
2003-2006 Member of the Board of Directors of the Quebec center for Contemporary arts in Montreal (CACQM), QC, Canada